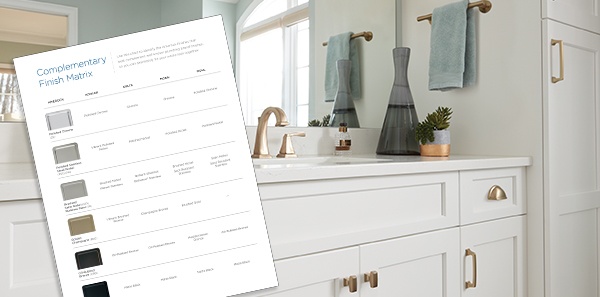 It's one of the more utilitarian rooms in your home, but no need to sacrifice style over function. In fact, master bathroom renovations gave living room remodels the boot, taking over as the 3rd most popular room to renovate, according to a recent Houzz survey. From luxurious showers to over-the-top lighting and bath accessories, this steamy space is the perfect place to hang your designer hat (or, robe).
When it comes time to put the finishing touches on your master bath investment, the finishes are where you can have fun, bringing accessories to the forefront. Mixed-metals and on-trend options like Matte Black and Golden Champagne are savvy ways to punctuate your space. Sure, a towel bar may serve as a resting place for bath sheets and hand towels, but does it have the designer look you carefully curated?
"It's really hard to find beautiful bath hardware with lots of finish options," said Margaret Mitchell, a Davidson NC designer. "Golden Champagne and Matte Black are so hot right now, and it's one of those things that you can get trendy with because it's easy to switch out years down the road."
Amerock's ever-popular stainless steel Bath Accessories collection, Arrondi™, took heed from designers like Mitchell and will be expanding the finish options to include Polished Stainless Steel and Matte Black. Golden Champagne and Stainless Steel have been a staple of the line, but you can soon add these new finishes to your arsenal of bath accessories, including towel bars, robe hooks, tissue roll holders and towel rings.
Whatever your style, Amerock's Finish Matrix can help you pair your plumbing finishes with your hardware selects, along with all Amerock finishes.
For ongoing inspiration, get social with us!