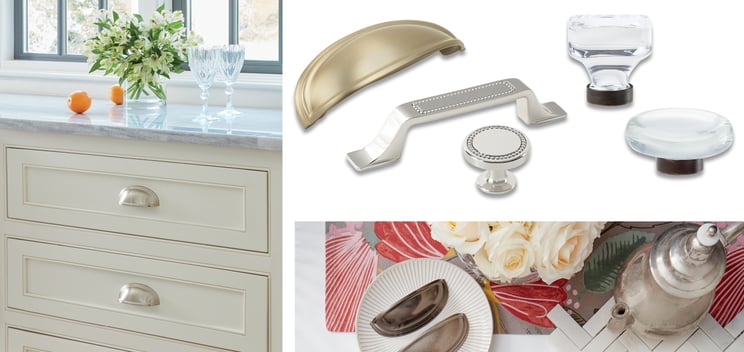 From Left: Amerock's Ashby Collection in Satin Nickel and Golden Champagne, Carolyne Collection in Polished Nickel and the Glacio Collection in Clear/Oil-Rubbed Bronze
The traditional American farmhouse has been a constant fixture in the design world for some time. Many homeowners are drawn to this style but find it outdated and too rustic. Freshen up traditional farmhouse décor by incorporating elegant, high-end accents. This modern take on tradition, "Glam Farmhouse," is an unexpected marriage of elements old and new. Cararra Marble and sparkling cut crystal chandeliers are a compelling counterpoint to natural surfaces like barn-reclaimed and whitewashed wood. Woven throughout this stunning design trend, hardware finishes elegantly define surfaces, doors, and drawers, giving form and function a glamorous makeover.
Welcoming and Warm
A genuine test of any design trend is the impact it makes in everyday life; farmhouse chic transforms your favorite rooms without sacrificing function, making it the ideal choice for homes of all sizes. Entertain friends and visitors, gather the family around the table for a wholesome meal, prepare your favorite recipes - everything you need will be at your fingertips, mingling elegance with heirloom-look design elements that add grace to your existing decor.
A Timeless Aesthetic
This new take on farmhouse style is fresh and easy to accomplish with small changes to existing decor. Explore the possibilities with Amerock's newest hardware collections: cheerful Carolyne, stately Crawford, timeless Ashby and sparkling Glacio - each ideally suited to your modern farmhouse aspirations.

The Ashby Collection is a nod to tradition: perennially popular in traditional settings, and as comfortable to use as it is to look at. Ashby Cup Pulls set a new standard for both style and elegance when utilized in an elegant farmhouse design scheme. Additional finishes for these timeless gems are Polished Nickel, Weathered Nickel, Satin Nickel, Golden Champagne, Oil-Rubbed Bronze and modern Gunmetal.

Elegant beading adds visual interest to the Carolyne Collection; making each piece exquisite, and the perfect foil to rustic farmhouse touches. Carolyne is available in Oil-Rubbed Bronze, Polished Nickel and Satin Nickel.
The Crawford Collection brings together fine lines and smooth transitions to create accents with unforgettable style. This rich and structured design creates drama in a whitewashed farmhouse setting. Golden Champagne, Oil-Rubbed Bronze and Satin Nickel are offered across this collection of knobs and pulls.
The Glacio Collection is the perfect combination of old world charm and modern glamor. Glass knobs in a variety of different shapes seem to float above their bases. With bases available in Golden Champagne, Gunmetal, Oil-Rubbed Bronze, Polished Nickel and Satin Nickel, this collection of clear glass knobs can suit any modern farmhouse design scheme.
The look of glam farmhouse is fashion-forward but comfortable, much like a fine French wine served from a chunky bistro glass. It's the juxtaposition of the familiar with the upscale-- a bit of a surprise, perhaps, but comforting at the same time. Whether you're upgrading your existing cabinet hardware or planning a complete renovation, the glam farmhouse trend is sure to satisfy. How will you make this unique decor style your own?