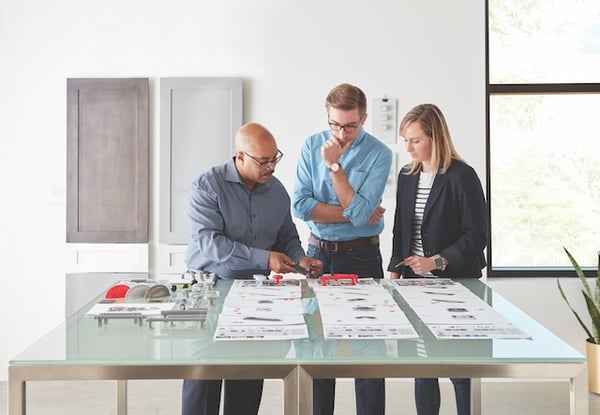 To form the foundation of a contemporary space, any designer will tell you that the subtle elegance of a neutral palette, minimalist cabinets and metallic accents stays fresh and modern no matter the timeline. And those in the know believe that the finishing touches can certainly make or break the look. This is exactly why Amerock places importance on in-house design to bring you exclusive collections to complete your space – whether contemporary, traditional or transitional. Nowhere is this more evident than in our Showroom Specialty Collections.
A total of eight collections is the result of a series of cutting-edge design paired with today's on-trend finishes. Examples of two contemporary collections can be found in our Esquire and Oberon knobs and pulls.
"When we started designing Esquire, we focused on an industrial composition, pairing an upscale crosshatch texture with smooth metallic ends, said Peter Wells, Senior Design Manager. "We take great pride in meticulously designing hardware that inspires personal style."
In keeping with the contemporary vibe, Wells recommends mixing and matching knobs and pulls to create a curated look -- for example blending Bar Pulls with Oberon knobs.
"Designing the Oberon collection started with inspiration from home décor conferences and future trend reports," said Wells. "The simple circular shape of Oberon can be found in the solid zinc or frosted acrylic knob, to add option and intrigue to today's hot, contemporary designs."
We've spent the past three years launching unique collections and providing new ways to expand your concepts through years of award-winning product design. We've spent the last 90-years nurturing the pioneering spirit of our in-house teams that bring new innovations in hardware design, direct to your home.
For ongoing inspiration, get social with us!