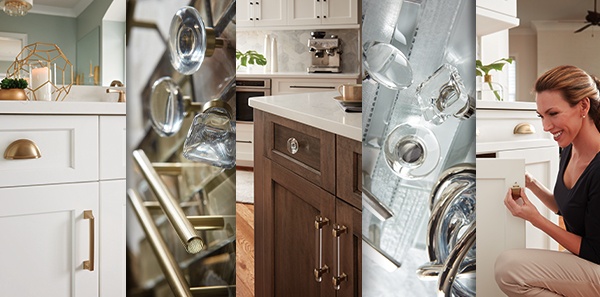 Home Design magazines as well as kitchen and bathroom blogs are all touting the mixed metal trend. From furniture to light fixtures and every knob and picture frame in between, you can't sling a tape measurer without discovering mixed-metal inspiration. Not only do we completely adore the trend, but we also love mixing and matching decorative hardware collections to carry this theme.
Keeping that kitchen up-to-date is top priority for decorators, sellers, and buyers alike. One sure fire way to nudge your kitchen into the now is to update your decorative hardware. Better yet, mix and match! The easiest and quickest way to spruce up your kitchen is to switch out the knobs and pulls on your cabinets. Try pulling profiles from two different collections. For starters, try adding a dash of glass with any finish for a mix and match, oh so glam, look. This small tweak, can make the whole room feel fresh and new.
You can find lots of inspiration in your local Kitchen & Bath Showroom, on our website and on our Pinterest page.
For you DIYers, click here to watch our Amerock Answers Videos to help install your new mix and match finds.
-How to measure Center-to-center so that you order the paper pulls
-How to install a glass knob with a stem
-How to replace an outdated knob with a cup pull.
For ongoing inspiration, get social with us!