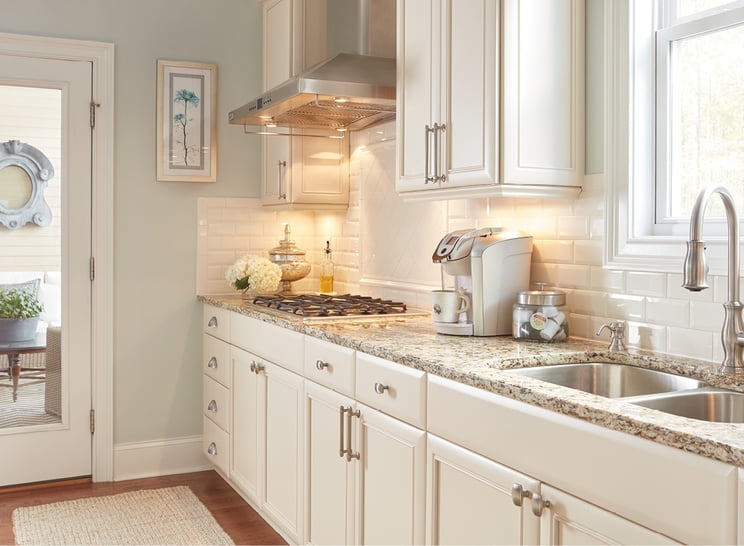 The Sea Grass Collection in Satin Nickel.
Natural, organic shapes are making waves in home decor, and textures like velvety-worn driftwood and the varied surfaces of quarried stone are showing up in places like countertops and walls. The lure of nature calls, influencing the architecture of interior living spaces. Product experts are tapping into the soothing, welcoming hues of nature and the beauty of "planned imperfections" on furniture and cabinets to bring the expansive, peaceful feeling of the outdoors inside.
Beyond the obvious edges and silhouettes of home furnishings, fine details like knobs and pulls have become part of a designer's palette for drawing in the most attractive hints of an untamed world. The right choice in stylish hardware makes all the difference, serving both a functional use and an artistic one. That's why, from brilliant custom creations to refreshing renovations, the Sea Grass Collection from Amerock's 1929 Refined line is the ideal choice to lend outside interest to even the smallest rooms.
This naturally-inspired hardware line is smartly designed, perfect for reinventing spaces with a nod toward the upscale style of seaside spas and private retreats. Elegantly unfolding across three sizes of drawer pulls, cup handles and gently pillowed knobs, the slender lines on the Sea Grass hardware pieces provide texture and a subtle metallic sheen that illuminates without overpowering the eye.
This collection is available in three stunning finishes: Satin Nickel, Oil Rubbed Bronze or new Golden Champagne. Developed with an eye on sensitive renovations, the soft hues of Golden Champagne are a quiet echo of the aging brass hardware often found in older homes. The bold warmth of Oil Rubbed Bronze evokes the restful, elegant feel of gently-swaying ship's cabins, while the Satin Nickel finish glows like moonlight on the waves. Mix, match or blend the finish of your choice to create a color scheme with a harmonious feel, or use a contrasting tone to provide a pop of color against light or dark furniture.
Organic home design projects can take inspiration from more places than a seaside escape. Sea Grass is just one of eight new hardware collections in Amerock's distinctive 1929 Refined line, which offers bold new options for today's current interior design trends. Natural design is a tactile experience, and the trend-spotters at Amerock created 1929 Refined to not only look pleasing to the eye, but also feel pleasing to the touch. The Carolyne, Crawford and Grace Revitalize collections are contemporary takes on traditional style, revamped to blend classic taste with modern lifestyles. The strong lines of Davenport andWells, as well as the bold textures in the Oberon and Esquire collections, round out this new family of products, offering looks and finishes that span the range of customer taste. These unique handles and pulls are just the finishing touch that you - and your clients- have been looking for, and they're even more beautiful in person.
Since 1929, Amerock® Hardware has set out to offer decorative hardware solutions that inspire, coordinate and help express personal style throughout the home. With a variety of finishes and designs for all decorating tastes, Amerock is the ultimate, time-tested source for all your hardware needs.