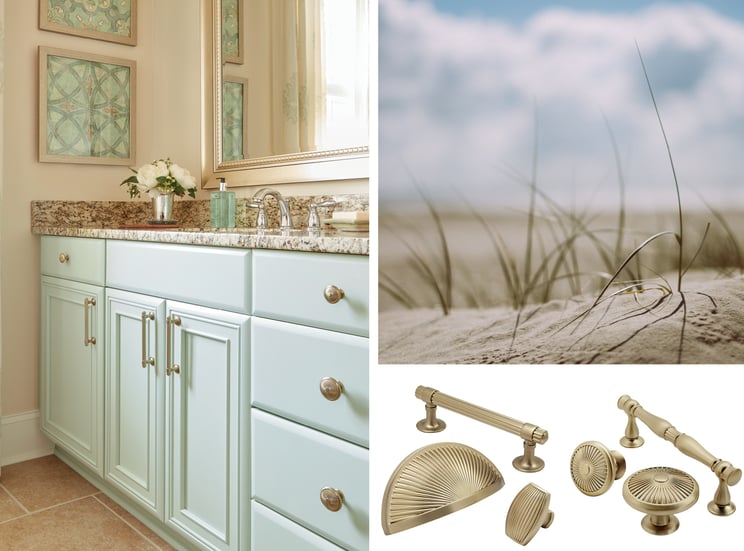 Amerock's Sea Grass and Crawford Collections in Golden Champagne
A Beachy Style Revolution
Love the beach but don't necessarily want to cover your bathroom in seashells? The good news is that beachy bath design has evolved into something truly breathtaking: a seaside-inspired palette of muted natural hues, organic textures, and a serene, inviting aesthetic that will have you lingering in a warm bath or shower.
Soft Dunes, Golden Rays, and Endless Waves
The beauty of the ocean, sand and sky are reasons enough to want to go the beach. Color is one way to bring the seaside to your home, which is why this trendy bathroom decor theme uses it so readily. For walls and accents, opt for natural warm tones that mimic sandbars in the sunlight. Explore muted gold edges on countertops, and warm-hued hardware like Amerock's ever popular Golden Champagne finish. Blue may seem like an obvious choice for a beach themed bathroom, but this new trend uses blue tones in an unexpected and dynamic way. Bring the sparkling ocean and endless sky into your bathroom's color palette by incorporating blue tones like Aqua, Azure, Indigo and Cobalt for your cabinetry or accents.

Crawford Knob in Golden Champagne (Left) Glacio Square Knob in Satin Nickel (Middle) and Sea Grass Cup Pull in Oil Rubbed Bronze (Right)
Natural inspiration can take many forms, and you don't need to abandon sparkle or shine. Glass knobs from the Glacio Collection turn ordinary natural light into the glow of a setting sun reflecting off the waves. Texture is also used as a way to bring the beach to your bath. The natural form of coastal grasses is reflected in the design of Amerock's Sea Grass Collection, and the knobs of the Crawford Collection. Delicate lines mimic waving grasses along the dunes, reminding you and your guests of an afternoon on the shore.
Sophisticated Renovations
Whether you're transforming an entire bathroom from scratch or simply updating a few elements, Amerock has a wide array of styles and finishes to match your existing fixtures. Bringing a refreshing, unexpected element to your home is as easy as a few color choices, a few hardware choices, and a few smart accents; the beachy decor theme offers unique elegance that you'll love. Isn't it time that you smiled each time you grabbed your robe to take a shower, or stepped up to the sink for your morning rituals? With this relaxed, neutral take on beach theme style, you'll always look forward to spending time in your new bathroom.