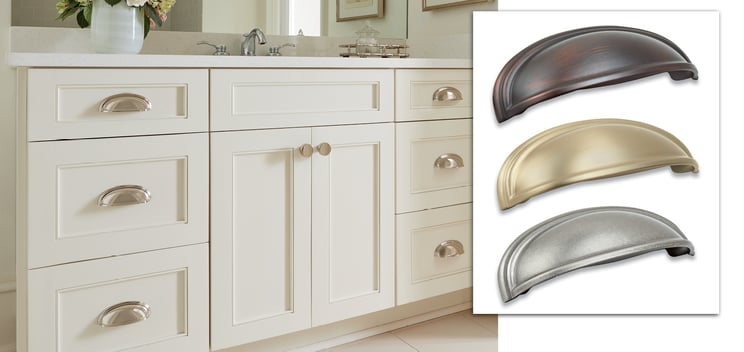 Amerock's Ashby Collection in Polished Nickel, Oil-Rubbed Bronze, Golden Champagne and Weathered Nickel (Clockwise from left)
Not just a nod to a historical design, the Ashby Collection represents a complete makeover for cup pulls. Often used for pantry and bin-style storage, cup pulls aren't usually available as part of most hardware collections. Amerock's in-house design team took a long look at how cup pulls are used in kitchen design, and set out to create a pleasing shape that blends well with many of their popular product lines.
Designed with the family of Amerock finishes in mind, Ashby pairs well with other knobs and pulls. Available in six popular finishes: Polished Nickel, Satin Nickel, Weathered Nickel, Golden Champagne, Oil-Rubbed Bronze, and Gunmetal. The gentle arch and tapered edges of Ashby make it a perfect companion piece for many Amerock Hardware collections such as Davenport, Mulholland™, Revitalize, Blythe, Glacio, and Blackrock™.
For an easy way to add cup pulls to your kitchen renovation project, download a free Pairing Guide for the Ashby Collection.
Beyond matching color and style, the simple shapes of Ashby cup pulls have been crafted to exacting detail; even the underside boasts a sculpted edge, creating a unique comfort grip. Ashby's gentle slopes make a compelling canvas for a range of finishes and styles.
An added bonus in the design, Ashby cup pulls have a clever dual-installation pattern that supports both 3-inch or 4-inch installations. Easily swap out tired hardware for Ashby without re-drilling their drawer fronts.

The Ashby Collection was designed for comfort, versatility and easy retrofits.
In the video below, watch Karen LeBlanc from Design Tourist in her review of Ashby Cup Pulls with Amerock at KBIS 2017.
The Ashby Cup Pull Collection:
Innovative comfort fingertip grip
For easy retrofits, every Ashby cup pull supports both 3-inch and 4-inch installations
Featured in 6 popular and fashion-forward finishes: Polished Nickel, Golden Champagne, Weathered Nickel, Satin Nickel, Oil-Rubbed Bronze, and Gunmetal
Pairs well with many popular Amerock collections: Davenport, Mulholland™, Revitalize, Blythe, Blackrock™ and Glacio.