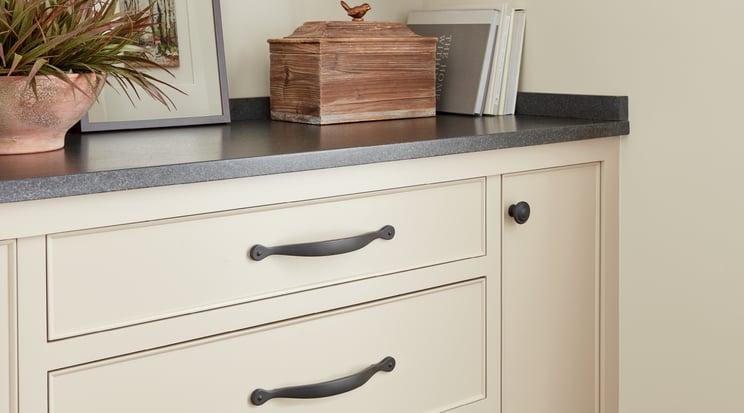 Amerock's Inspirations Collection in Flat Black
Looking to add excitement, depth, and a bit of mystery to your kitchen renovation? Dark, smoky finishes are the latest trend to bring heightened drama and contrast to your new design. Black is set to eclipse the shine on everything in the kitchen from small appliances and plumbing fixtures to cookware and flatware. More subtle than ostentatious; rich black may fade into the background but never disappears. While black has always been an accent in the home decor, it represents the new chic in kitchens.
Back to Black – Anything but Basic
Major appliance manufacturers provided the catalyst for this new direction with the introduction of black stainless finishes. They have a sheen, but little glitz; mixing beautifully with stainless steel while complementing the patina of other metallic finishes. Black stainless is a stylish departure from the norm, but it also marks a style evolution and offers the freedom to mix and match finishes. Homeowners and designers alike appreciate that flexibility. Resistant to fingerprints and streaking, black contrasts beautifully with ever-popular white, accentuates neutral grays and complements other tones from pastels to brights without overpowering.

Amerock's Bar Pull Collection in Gunmetal, the Blackrock Collection in Black Bronze and the Esquire Collection in Polished Nickel/Black Bronze
A New Path in Hardware Design
The product designers at Amerock have embraced this trend, introducing several new lines of knobs and pulls to enhance cabinet doors of any style. The Classic Bar Pulls Collection features new pieces in gunmetal. Elegant and eye-catching, Gunmetal is the perfect alternative for those who love a metallic sheen but prefer a hint of subtlety. It will undoubtedly spark up a newly-darkened kitchen. The Wells Collection evokes another era entirely, featuring the same gunmetal finish on stately knobs and pulls; an easy update to existing cabinets.
Just as the best kitchen design employs a masterful mix for high impact, Amerock's Esquire Collection combines a textured body in black bronze highlighted by an elegant accent of polished nickel. This finish combination is as traditional as a tuxedo, but with a thoroughly modern expression.
For the darkest of darks, the distinctive Blackrock Collection lifts matte black pulls and knobs out of the ordinary, both in shape and finish.
As we've seen, darker tones can be fun and fanciful or formal and sophisticated. With the new cabinet hardware collections from Amerock, you can add that touch of black to styles that range from farmhouse casual to sleek Euro-tech.